What You'll get in Complete Cat Care: The Complete Cat Health and Care Resource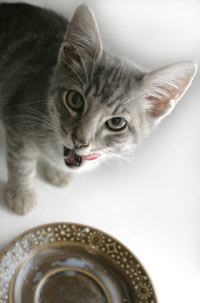 You'll Get...
ALL the potty training tips and techniques... including... indoor and outdoor potty training... problem solving methods and more...
The best feeding regime for your cat or kitten! Make sure that your cat gets the nutrients that it deserves for a wonderful healthy life!
Photographs and descriptions of ALL the common cat breeds... Great for children and adults alike! Learn about the Maine Coon and other exciting breeds!
Solve all sorts of behavioral problems... scratching furniture... jumping on tables... chewing plants... urine marking... nuisance howling... and more...
Explanations of all that cat-like behavior. Get inside your cat's mind and develop your relationship by being able to understand your cat more!
AND a heap more great stuff, including...
• Making your home cat-friendly and safe,
• What to look for when selecting your cat,
• Cat myths,
• First aid for cats,
• Natural health remedies,
• All about cat toys and furniture,
• Even how to look after a senior cat!
A Fully Downloadable Book: So that you can save time by having Complete Cat Care on your computer within minutes!
Instant Access: Because this package is downloadable you get instant access to all of the cat welfare information and more straight away!
100% Guarantee: I personally offer a full refund, so if the package doesn't match up to your expectations then just email me for a full refund anytime within 60 days.

That's right! Take up to 60 days to examine and use the cat care information, tips and techniques in Complete Cat Care. That's up to 60 days to put these valuable strategies to work on your cat in your own home.
Try the techniques yourself… Try as many of the tips as you can. Once you have used these strategies on your cat, I'm confident that you'll NEVER want to send it back!