What I'll get in The Ultimate Guide to Dog Health...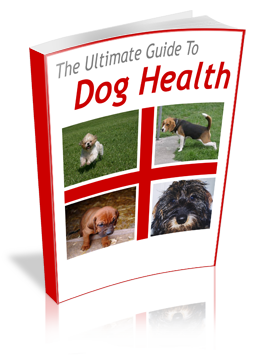 As Well As:
The ULTIMATE GUIDE to DOG HEALTH... packed with everything you'll need to know about dog health and dog care ($49.95 value). (If you save yourself ONE trip to the Vet, this guide has already paid for itself - TWICE OVER!!)
You'll also get:
The ULTIMATE GUIDE to DOG FIRST AID... you'll learn how to perform "Doggie CPR," Chest Compression, and even the canine version of the Heimlich Maneuver in life-threatening situations which may very well save your dog's life! ($24.95 value).
180 Gourmet Recipes for Your Dog, which includes an incredible menu that will teach your dog the real meaning of variety when mealtime comes around ($19.95 value).
101 Ways to Spoil Your Dog for Under $10, low-cost luxuries for your dog plus free and fun activities that will keep both of you entertained for hours ($19.95 value).
20 Super Healthy Recipes for Your Dog, recipes that are designed to be easy to prepare and will prove once and for all that healthy food can taste just as good as everything else ($19.95 value).
PLUS our 60 Day Instant Money-Back Guarantee!

Take up to 60 days to examine and use the dog health care information, tips, and techniques included in The Ultimate Guide to Dog Health. If you are not satisfied with our product for any reason, or it doesn't live up to your expectations, just send us an email and we will refund your payment.
We're that confident. It's that simple.