Upgrade to Secrets to Dog Training Premium
For Just $59.95...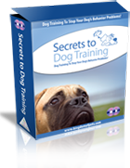 Get over 5 hours of online video training with professional dog trainers Brian Heward and Susan Morton as they cover everything from Aggression, to Alpha Dog training, to Problem Barking, to Socialization.
Plus, the videos include In Field training sessions. So you get real scenarios, involving difficult and unpredictable pets.
These videos are designed so that they'll play on ANY computer!
Here's what you get…

Online Video 1) How to Stop Dog Aggression [Part I]
Put an end to your dog's aggression towards strangers or family members, address fear aggression, and territorial aggression. Ensure that your dog never becomes a threat by following these simple steps.

Online Video 2) How to Stop Dog Aggression [Part II]
Does your dog play too aggressively? Is he possessive of toys, food, or people? Does he fight with other dogs? These online videos will take the aggression out of the equation.

Online Video 3) How to Stop Your Dog from Barking
How to control your dog's barking. We teach you what different types of bark mean, and show you how to communicate to your dog so that he knows when and where it is appropriate to bark.

Online Video 4) How to Stop Your Dog's Biting & Chewing Problems
How to stop your dog from biting, nipping, and chewing. Our professional dog trainer shows you amazingly simple but hugely effective techniques that will get these behaviors under control.

Online Video 5) Alpha Dog Training
Alpha Dog Training. Find out how pack instincts are shaping your dog's actions, and how you can use them toward your advantage.

Online Video 6) In Field Training: Real Life Case Studies of Dog Training in Action
See first-hand how trainers Brian and Susan resolve a variety of dog behavior issues from separation anxiety to pulling on the lead and more.

UPGRADE to Secrets to Dog Training Premium for another $59.95 Now! Just check the box on the order form above!